Titan Pinky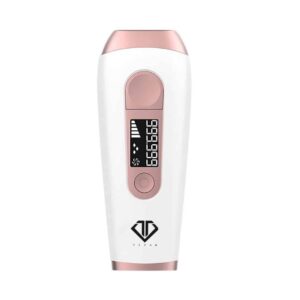 Regardless of age, women always want to have smooth, vibrant skin to confidently wear beautiful clothes. The use of temporary hair removal methods sometimes makes you feel very tired, takes a long time, but the effect is not good. The hair removal machine is uncomfortable, there is a burning sensation, burning sensation, especially on sensitive skin areas such as bikini, mustache, armpit… This makes it impossible to use the power level hair removal mode and reduce hair removal efficiency. .. After understanding those concerns, B-blowing has launched a product that integrates modern IPL technology – Titan Lotus hand-held hair removal machine, which helps to remove hair gently, without burning pain, with obvious effect only after 4 weeks.
Gentle hair removal without pain
New generation IPL hair removal machine with British technology. Possessing the most advanced IPL removal technology, suitable for all sensitive skin areas, especially the bikini area. Bringing results after only 4 weeks compared to conventional machines.
Remove hair with Titan Pinky – the best handheld hair removal machine
Cheapest price in the market
Can be used by both men and women
Anyone can use our premium IPL hair removal machine
IPL light technology with 500,000 pulses:
Long-term hair removal can be used, the service life is 5-7 years, maximum savings, cheaper than going to the Spa.
Provides permanent hair removal efficiency from 80% – 100%.
Reduce the risk of infection, dermatitis, darkening, roughness and sagging when using conventional hair removal methods.
The machine is designed with 5 intensities:
Safe, suitable for skin with different sensitivities.
Modern Design – Easy to use
Compact and convenient design:
Be proactive & save a lot of time compared to spa hair removal or using conventional hair removal methods.
Advanced British technology:
The British technology pulse lamp ensures a durable machine life, the rays do not weaken over time.
No need to use gel when removing
User manual
Step 1:  Check skin color, coat color, skin sensitivity.
Step 2:  Shave the hair and clean the skin to be removed.
Step 3:  Clean the pulse generator, plug in the device and start it up.
Step 4:  Select the desired intensity, mode and proceed with hair removal.
Tips for effective hair removal
For standard use and best performance, we recommend using:
Check the appropriate skin color according to the detailed instructions for use before removal
Do not use the device in one position for too long (no more than 25 minutes), or pulse too many times in one location. If the hair removal area is relatively large, it can be divided into several sessions.
Do not remove hair using tweezers or wax before using the machine.
Do not cover the air outlet while in use.
Do not use special cosmetics immediately after using the device.
Do not expose to water for 6 hours after removal and avoid exposure to strong sunlight for 48 hours after removal.
Use a moisturizer to soothe the skin when there are signs of redness or burning.
Insurance
Titan Lotus hair removal machine is committed to a genuine, 1-for-1 warranty within 12 months in Vietnam.
Machine information
Designed by: UK
Manufacturer: VATITAN INTERNATIONAL PTE. LTD.
Genuine importer and distributor: BBlowing Co., Ltd
Color: white
Accessories: phone, charger, user manual
Power Supply: AC100-240V
Honored to be the exclusive distributor of Vatitan's high-end hair removal machine (made in Singapore), B-Blowing promises to bring users a convenient and fast shopping experience and bring products. quality with best price.
Contact us for product advice, support and answers
Facebook: B-Blowing
Here are our product policies:

> Warranty Policy

> Delivery Policy

> Payment Policy